Early in 2008, Director Jason Moore ("Avenue Q"), Production Designer Tim Hatley ("Spamalot"), and Aurora Productions Production Manager Gene O'Donovan paid a visit to The Character Shop. The question they had was; "Does The Character Shop have the chops to create a huge, glorious character for an upcoming smash Broadway production?" The answer clearly, was a huge "YES!"

More than 6 months later, and after several evolutions of the design, TCS had created a ginormous, fabulous, animatronic Dragon puppet, a key character in the Dreamworks franchise' latest media triumph. In addition, TCS also created a slew of Puppets for the production's hilarious "Traveling Song" number, as well as the laugh-getting exploding Bird Puppet.

Combining technical wizardy, incredible range of movement, rock-solid dependability (6 shows per week!), and a heretofore unexplored flair for theatrical, TCS President Rick Lazzarini and his hard-working crew came up with an impressive, 17 foot tall Pink Dragon who can appear both menacing and flirtatious, while dancing up a storm!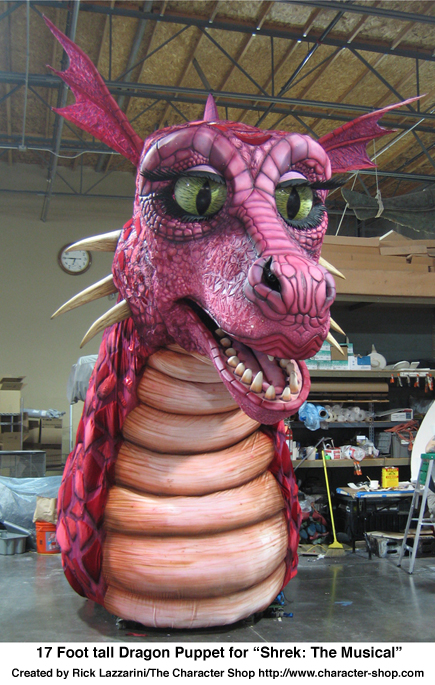 The Dragon boasts an impressive array of features: Eye Up/Down and Side/Side Movement, WInking/Blinking Eyelids, Glowing Eyes, Jaw Action, Head Up/Down, Side/Side and Twist motions, full Neck Up/Down All the way to the stage floor, and all the way up to 17 feet!), and a rolling, mobile base. In addition, she sports a Co2 "Smoke Breathing" system, as well as a sophisticated video camera and monitor setup that lets her operators see where she is, and what she's looking at.

She's manipulated onstage during the show by none other than amazing Puppeteer John Tartaglia ("Avenue Q") , who really brings her to life. While John is safety-harnessed in the top tier inside her neck, hidden Stagehands roll and position her on stage.

Check out the links to progress pages, movies, and pics, to see how she ticks!

Final Progress Page (as created for Client): TCS Shrek Dragon Final progress

Early Progress Page: TCS Shrek Dragon Early progress