REALISTIC FX
Whether for feature or commercial work, there is inevitably the call for a creature or character that must totally convince the audience that they are real. In this case, a real animal or human exists, but you need a replica to do something that real animal/human can't (or won't) do. That's when we "get real".
---
Select any photo to view a larger version.
---

A hyper-realistic human replica we are doing for a special project. Made from translucent, flesh-like silicone, with custom-designed eyes, every pore was sculpted by hand, every hair inserted one at a time with a needle.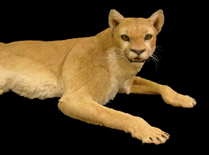 For Cadbury Chocolates' new "Happiness" campaign, TCS designed and created an animatronic cougar with radio-controlled, multiple-axis eye, brow, blink, nose, jaw, ear, and lip mechanisms. A slim-wristed puppeteer put her arms through the false bottom of a bed into custom-sculpted paw-sleeves, yet another puppeteer controlled the head with an external rod, while yet two more puppeteers handled its heaving, breathing chest with a large bellows and flicked its weighted tail with a long pole and invisible thread.

A very accurate replica of a bloodhound's head for the hit feature release Sweet Home Alabama.The skin forms and textures were painstakingly sculpted, the skin seamed and carefully painted, and false eyes and a coating of fur courtesy of our Creature Flocker™ completed the job.


An authentic-looking Galapagos Tortoise replica (actually, we built three of them!) for a new Budweiser spot. They featured hand-puppeteered head, neck, mouth, and breathing movements, and radio-controlled eyes, blinks, and brows. A urethane resin shell and a matte-finish foam latex skin complete the "look".



Quarter Scale foam latex rod operated puppet replica of Sarah Jessica Parker for Disney's HOCUS POCUS. Passive joints in pelvis, wrists, elbows, shoulders, and neck to allow for realistic and natural movement.


Life size realistic replica of "Betsy", the capuchin monkey from Warner Bros.' OUTBREAK. Made from silicone with hundreds of individually hand-punched hairs. Featured a passively jointed skeletal structure and animatronic movements of its breathing, mouth, eyes, head, and brows.


Animatronic replica of an English sheep dog for Disney's THE SHAGGY DOG remake. Hand operated mouth, with R/C brows, tongue, and ears.


Old age prosthetic on Emilio Estevez for YOUNG GUNS II. Created and applied by David Anderson and Rick Lazzarini. 9 piece appliance with translucent ears and flocked beard stubble.


One of 13 Albert Einstein makeups for an Olympic Stain Commercial. Compare with the Emilio Pic; on this we had 3 weeks, on YOUNG GUNS II, 6 weeks!


Animatronic fish replica for MILLER LITE BASSBALL commercial. Flew on hidden wire, had R/C animatronic mouth, gill, eye, and flopping tail movements.


Animatronic cow puppets for MILLER LITE "Cowabunga" commercial. Three separate puppets were built, the largest having animatronic head, neck, tail, eye, blink, brow, nose, and jaw movements.


For Columbia's RADIO FLYER, TCS created an eight foot tall walking buffalo, supported by a heavy duty crane. Made with real buffalo hides transferred onto flexible netting. Hydro- Pneumatic neck movements, linear actuator movements of head (3 axes), legs (4 axes each), and servo powered tail, eye, blink, brow, nose, and jaw movements.


TCS built 20 emperor penguin replica puppets for a Japanese Chivas Regal ad. "Hero" penguins featured bending at the waist, wing, head, beak, and eye movement.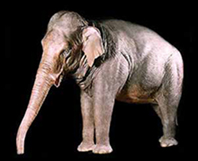 Animatronic Elephant built for Disney's OPERATION DUMBO DROP. Features animatronic tail, head, ear, eye, brow, swaying, and prehensile 5-way trunk movements.


Silicone elastomer casting of chimp head with punched hairs and realistic paint job. Cast from molds made for Michelob beer ad. Note translucency of skin.


Three animatronic frogs built for a Budweiser commercial. They feature foam latex skins, rod-operated body and legs, animatronic eyes, blinks, smiles, breathing, and throat bloats.
Okay, so maybe they do look a little on the whimsical side, but I include them here because of the realism in the body, texture, and color. And some people think they're real!
---
Home
What's New | Features | Commercials | Resume | Realistic | Whimsical | Scary | Animatronics | Prosthetics | Puppets | Waldo ® | Publicity | TCS Fun | FX FAQ | Reference | Feedback
Except where noted, all contents are the property of The Character Shop, Inc. and copyright 1995-2002