TCS creates Star Wars Porgs…for charity!

TCS helps create a mobile Porg Island for Magic Wheelchair at Comic Con San Diego 2018!

Hit the button. A cacophony of screeches and squawks, a flock of anxious Porgs comes to life!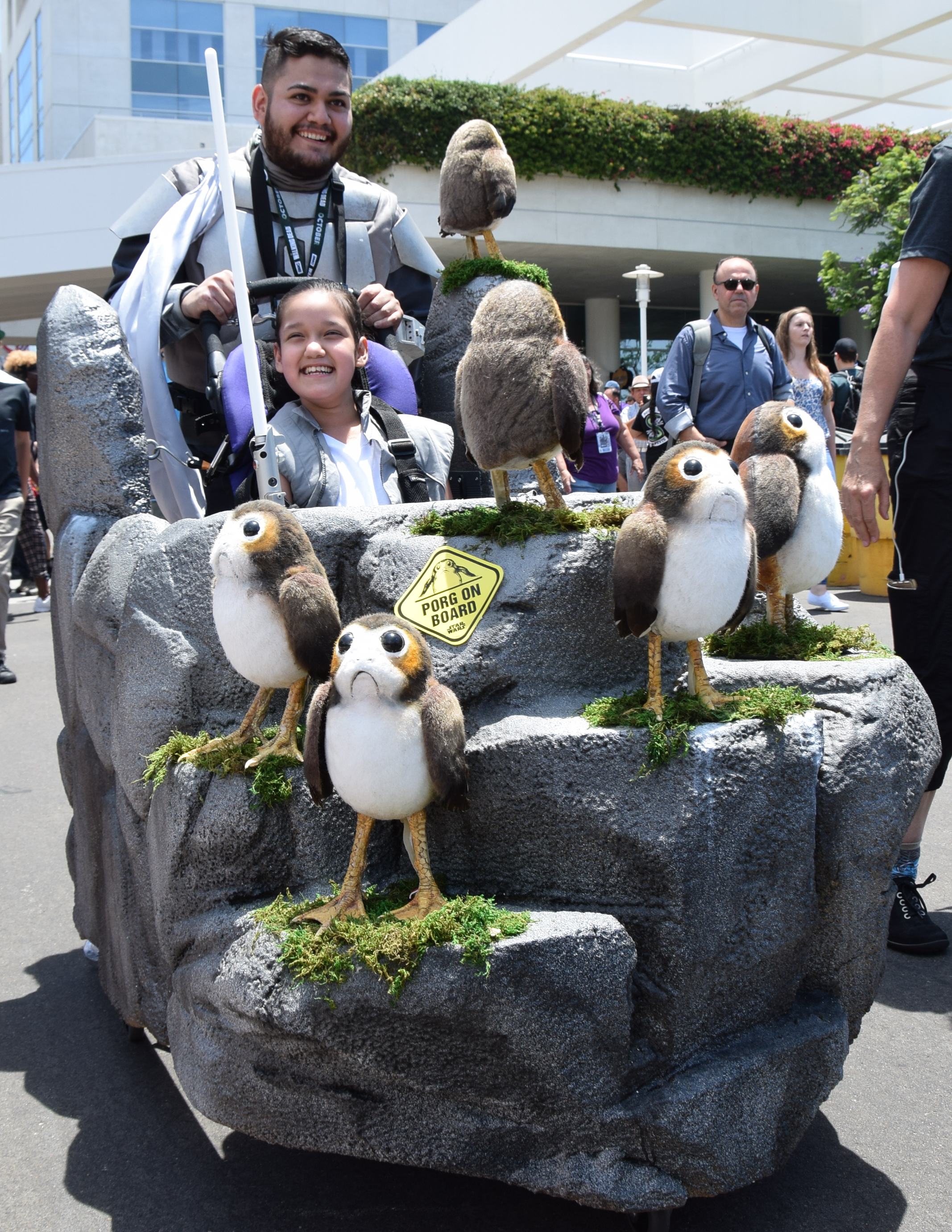 The Character Shop creates a lot of cool creatures for all kinds of projects. This time around, we decided to make something for a very worthy cause: The Magic Wheelchair Foundation. Magic Wheelchair is a nonprofit organization that builds epic costumes for kiddos in wheelchairs- at no cost to families. Every year, they unveil an amazing range of unreal wheelchair costume designs for kids, at places like Comic Con, re:3D, other conventions and on various TV shows. Facilitated by the Stan WInston School of Character Arts' Matt Winston and Erich Litoff, James Powell from Monster City Studios contacted The Character Shop's Founder Rick Lazzarini, wondering if he and TCS would be interested in contributing to a "Star Wars" themed costume. Rick and TCS then joined forces with Dave Asling at Creation Consultants. Between MCS, CC, and TCS, together they hatched a plan: create a mobile "Porg Island" for lucky (and extremely sweet) kiddo Aubrey Munoz.
From 3D-modeled and carved forms from MCC, Rick designed internal mechanical armatures for the Porgs, allowing for wing and mouth movement. Dave then took these designs and laser-cut the various components, including a custom dashboard for the mobile craft.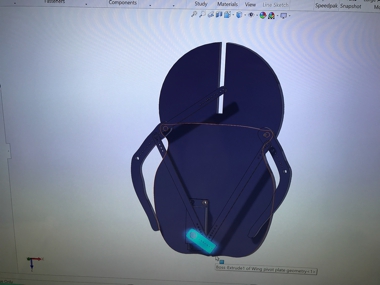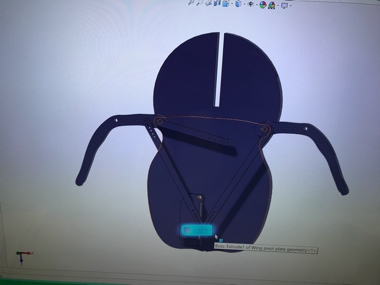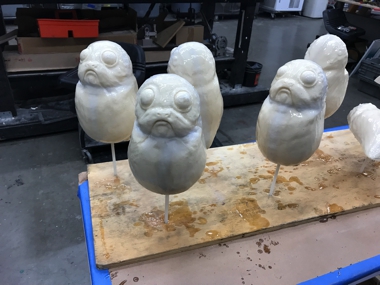 While Rick assembled the servos and parts to make the Porgs come to life, he also created a battery-powered programmable control station, so that with the push of a button, Aubrey could start the show, complete with authentic, Lucasfilm-provided Porg screeches and sound effects. Marilyn Systems, Inc. generously donated a Sound Playback System to pump the audio through hidden speakers, provided by Dru Smith. Meanwhile, sculptors at Monster City had carved out and hard-coated a wonderful model rock island, built to surround Aubrey's wheeled cart. A fun homage to the film was a special "Spinning" Porg, who would turn 180 degrees to present a "barbecued" backside, complete with a "Sad Trombone" sound effect!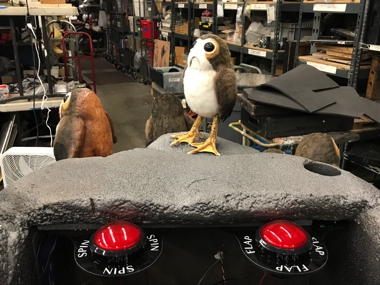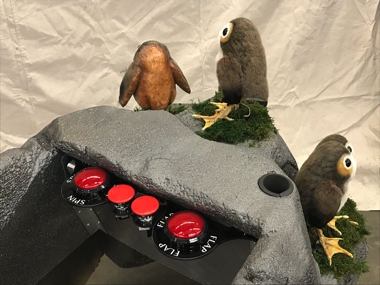 Dave Asling took the Porg forms and hard-coated them at Creation Consultants, then gave them a basic undercoating and paint job. Back at TCS, after chatting with some of the original creators of the Porgs for the film, Rick applied taloned feet and lags, and feathers and flocking to make the bizarre bird-like creatures look as authentic as possible! Dave Asling then took over painting the island form, giving the rocks a worn-granite look, complete with aged, runny Porg-poop stains!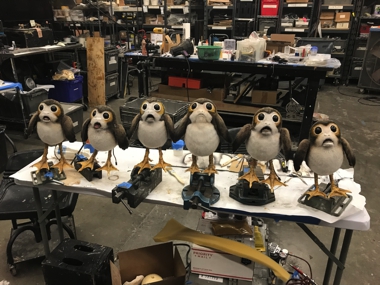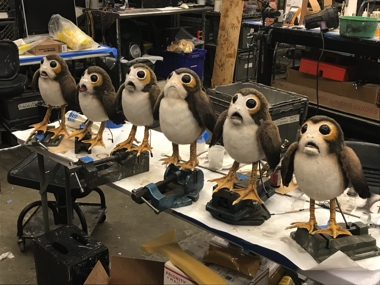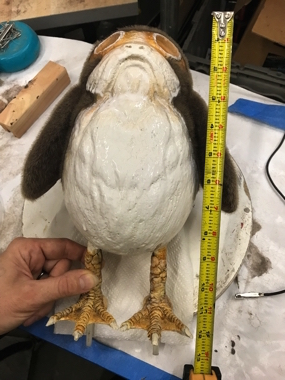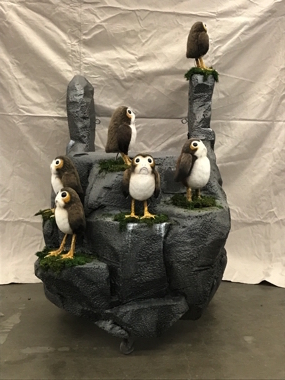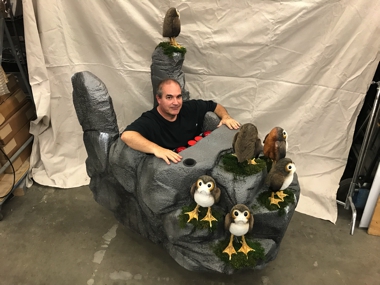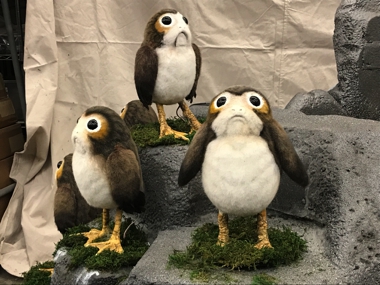 Last minute adjustments were made at a hotel near San Diego Comic Con, and then it was time for the unveiling! "Mythbusters" star Adam Savage was there to announce this years' crop of epic costumes, while Magic Wheelchair founder Ryan Weimer proudly served as the host. The crowds, the press, and most importantly, the kids went wild for the custom-made crafts, and then went on a celebratory parade outside SDCC, giving Convention-goers an eyeful of the creativity, ingenuity, and generosity provided by all the builders, suppliers, and collaborators.
Here's a link to a Youtube video about the project, and various pics of the event on location!
https://www.youtube.com/watch?v=iF6U7NDStlE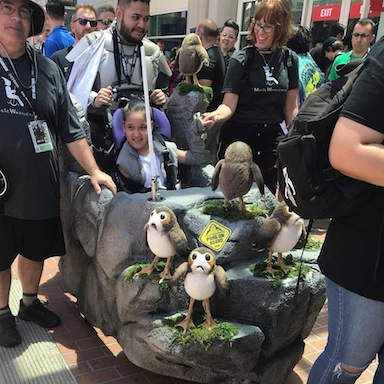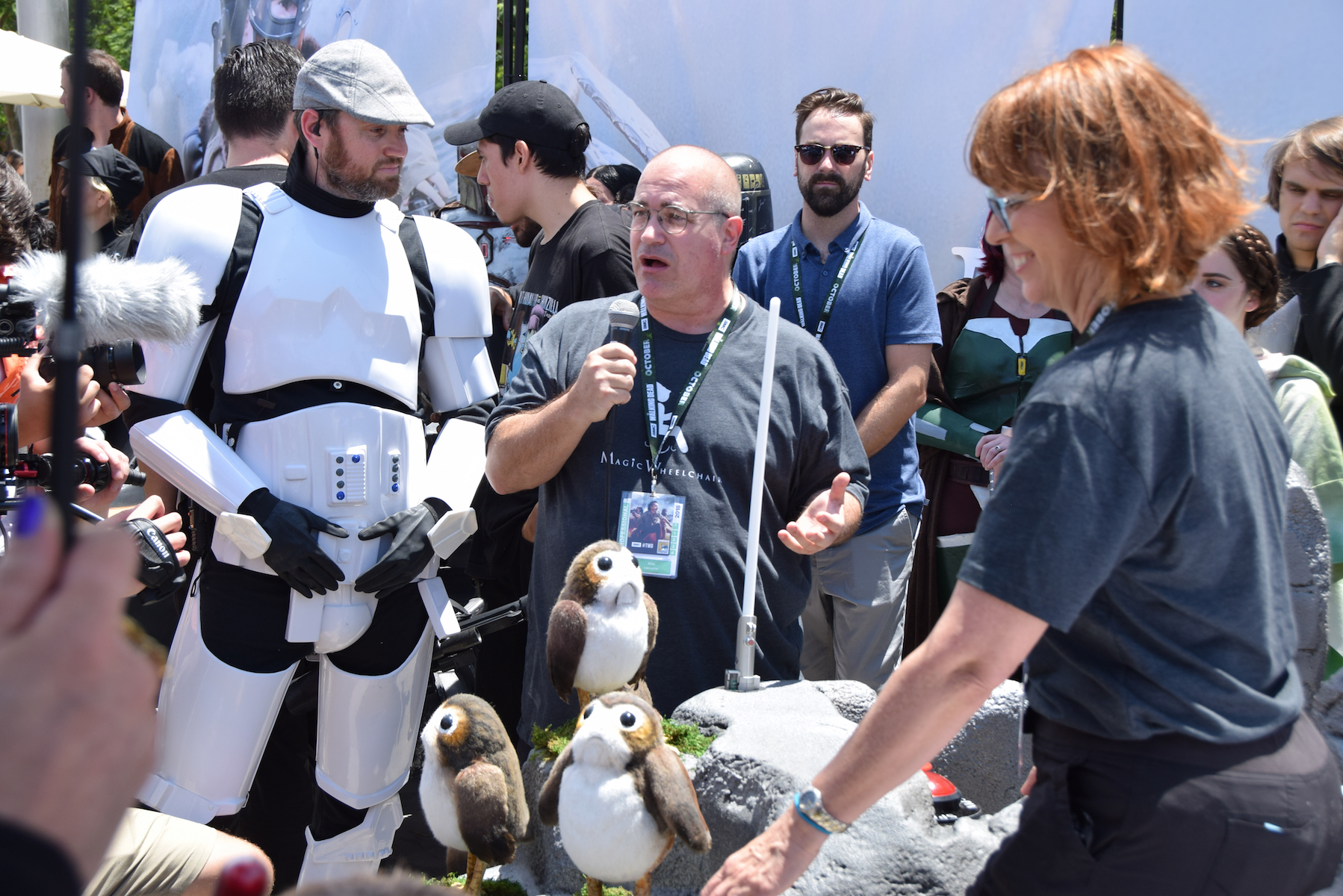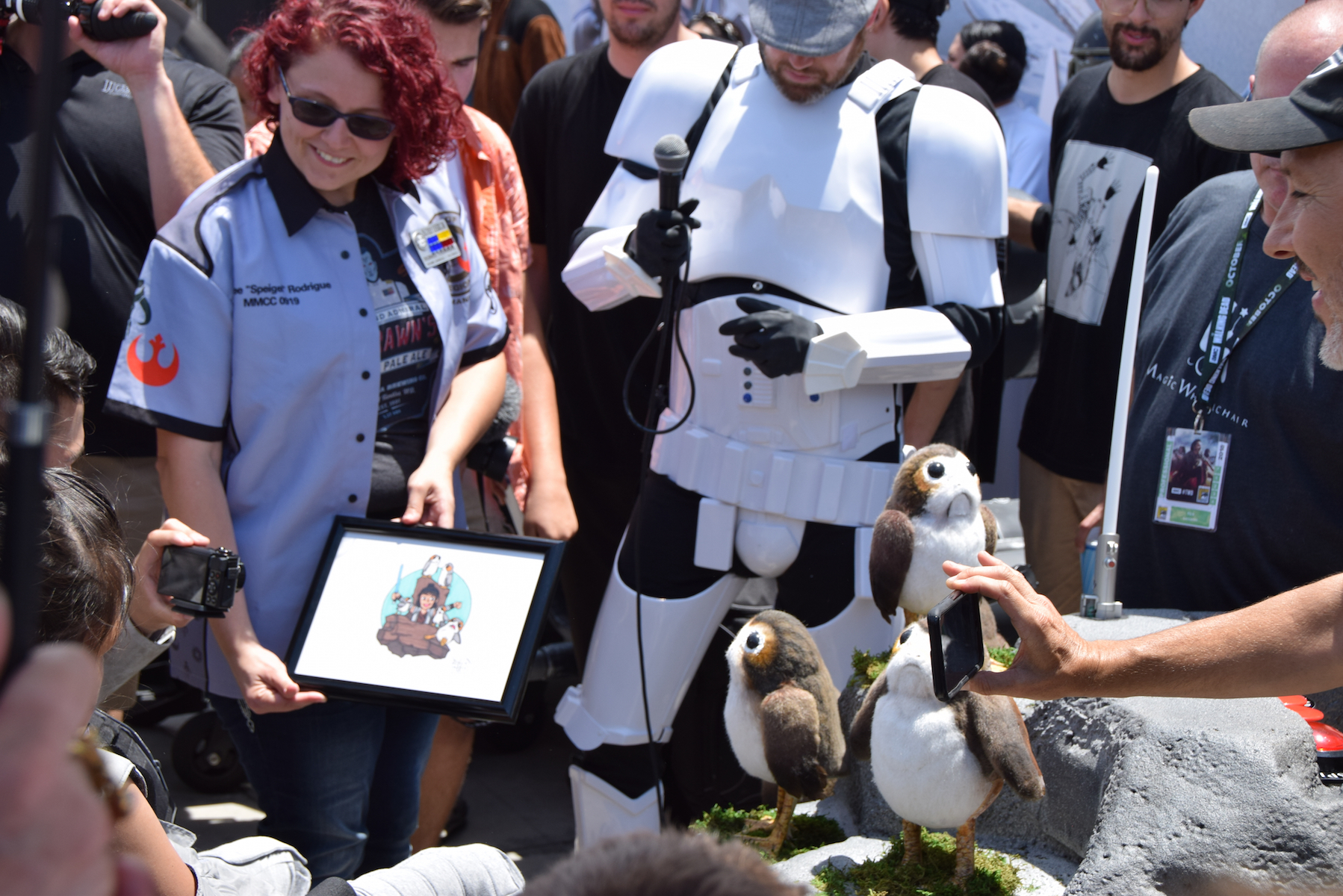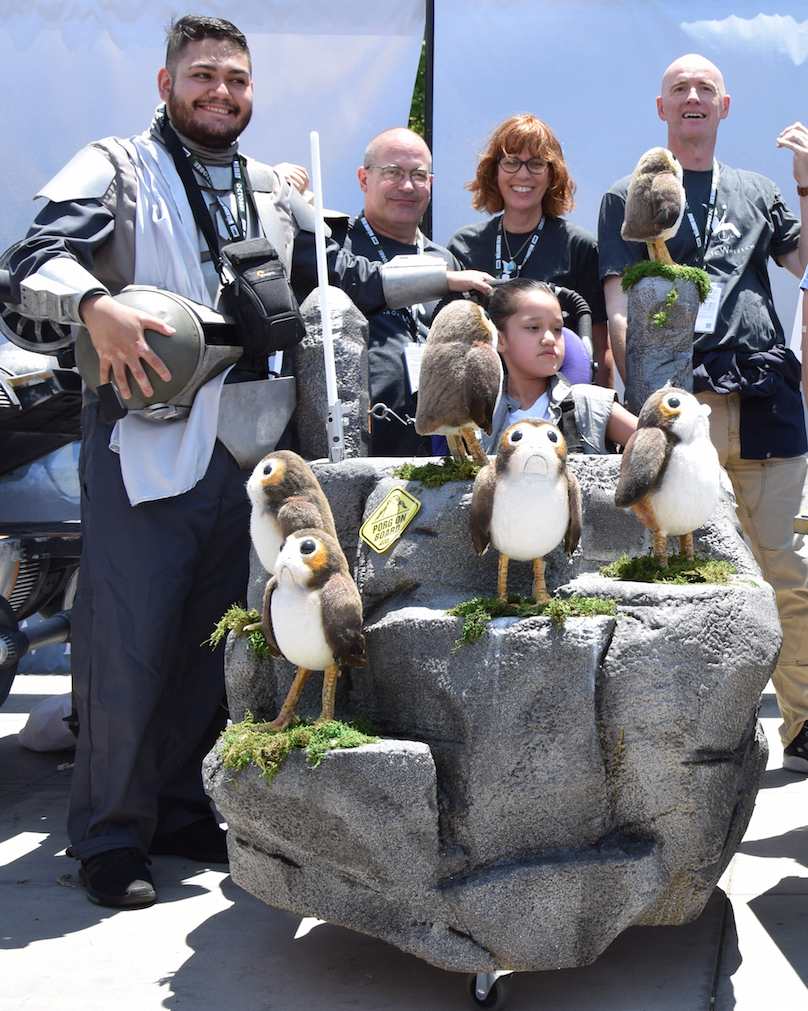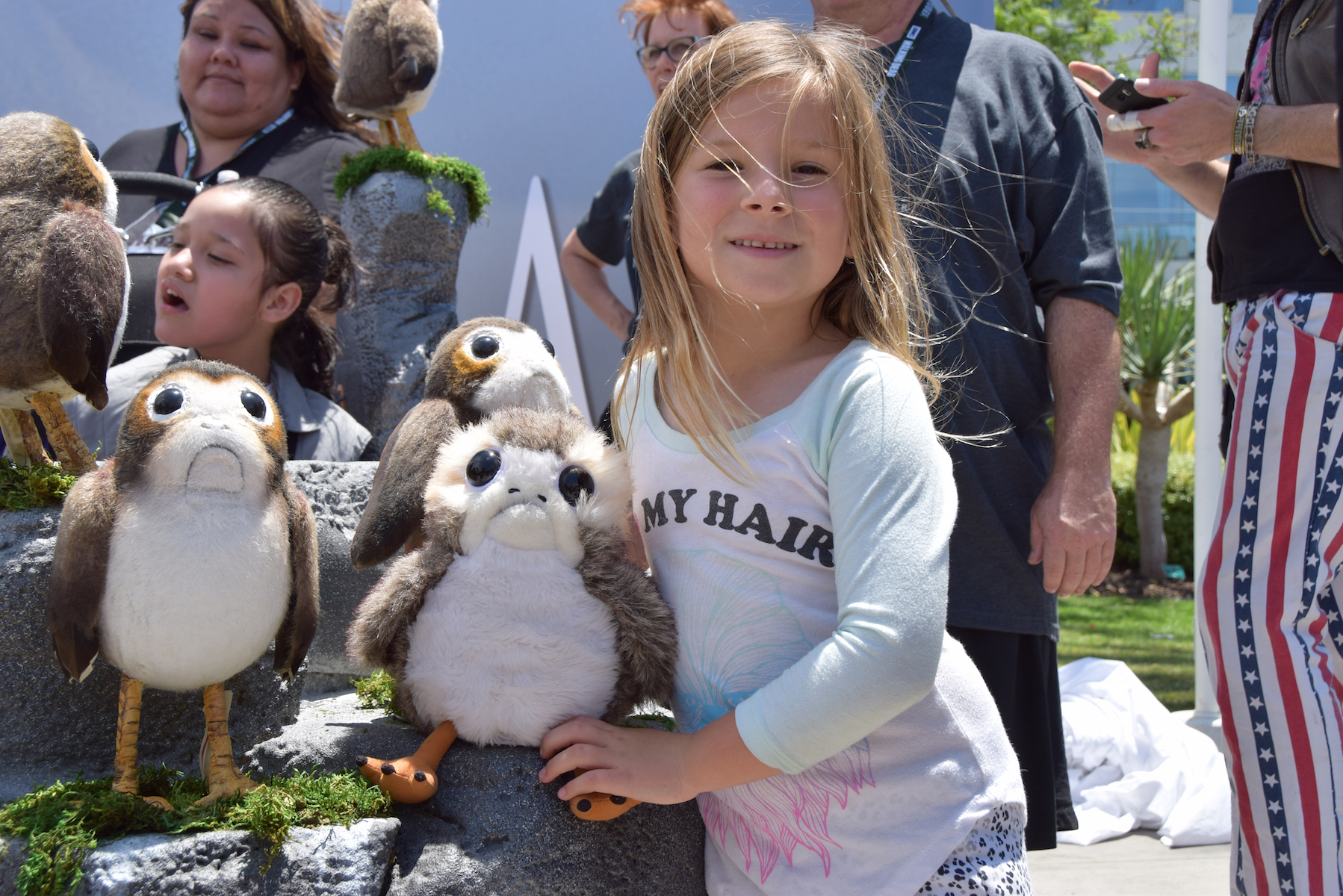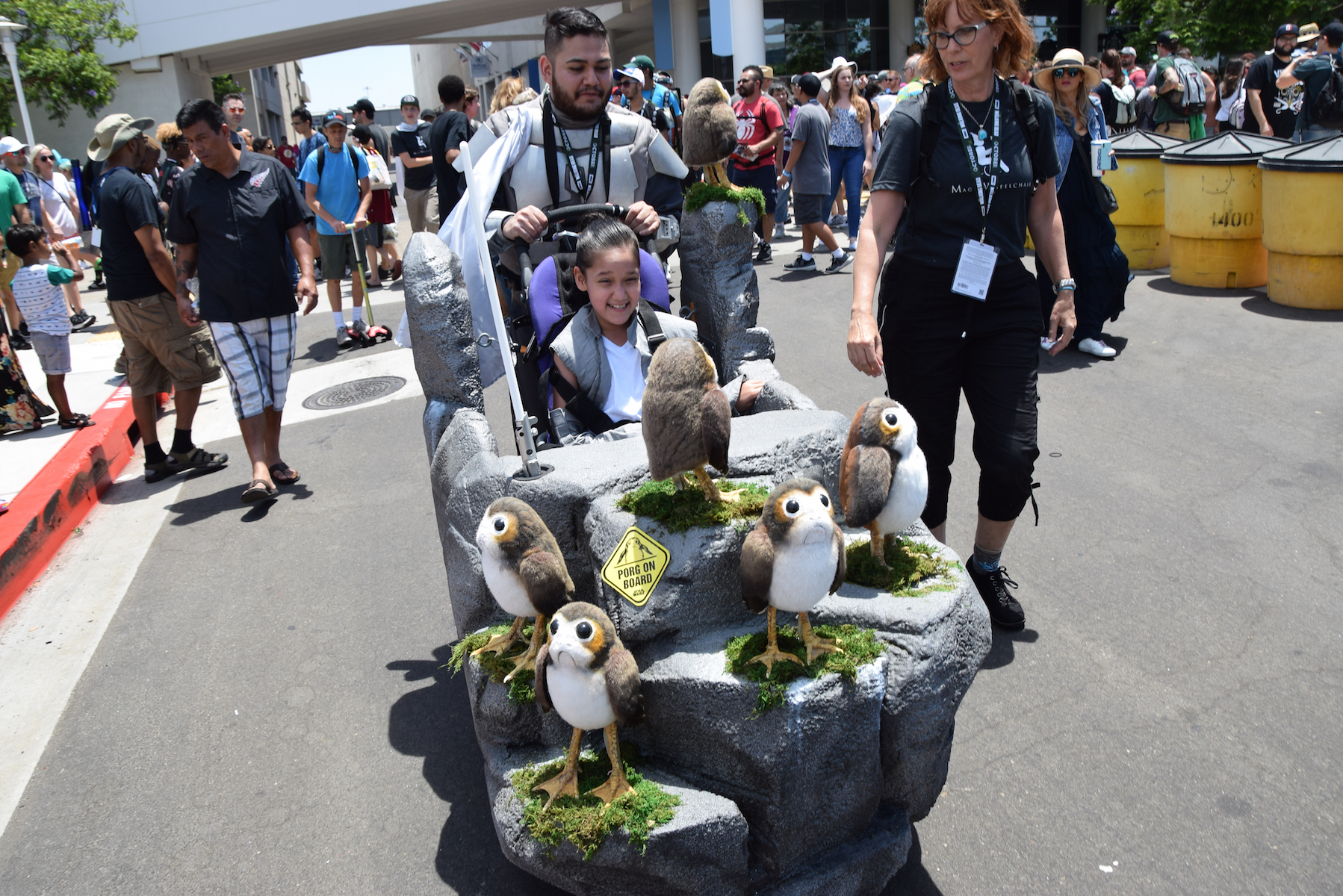 The Character Shop was honored to be asked, and be able to deliver something that was the source of so much joy, for such a fantastic cause, and in the end, it was all worth it!
Whether you're a Producer, Art Director, Prop Master, Production Designer, Private Collector, Inventor, Burning Man Artistic Investor, or Exhibit Designer... you can have incredible animatronic creations for your Production or Project. Need incredible imagination and technological wizardry for your Film, Television Show, or Live Event? Contact The Character Shop at 805-306-9441 or lazzwaldo at mac.com!