The economy stinks. Things cost too much. Ya gotta be smart and save. One way to save money would be to get a low maintenance pet for the kids...right?.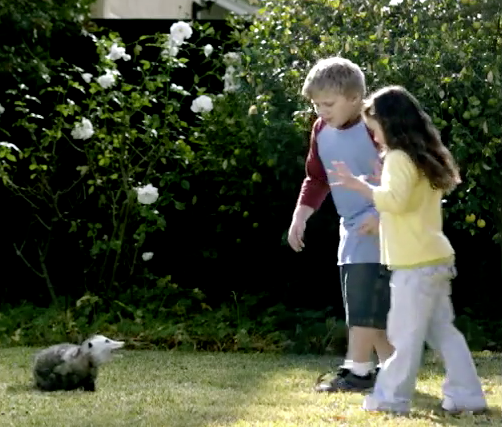 Rick Lazzarini and The Character Shop get calls every day for animals that customers hope are "on the shelf". Unfortunately, when Noah's Ark hit the ground, the animals scattered, and thus we don't have some of them! And the ones we *do* have, we've had to make! And, because things cost so much...we only build creatures when Clients need us to.
So when the call came in for an animal we hadn't created yet, Rick gave a call to someone who's normally a competitor: Mark Rappaport, at Creature Effects, Inc.: "Hey, do *you* guys have a realistic possum puppet? Yes? Well, let's see if we can make a deal..."
And we did. Several secret and dangerously complicated handshakes later, Rick and Mark agreed to split the costs of re-purposing the puppet to fit the needs of this particular spot, and they then shared Puppeteering duties on set. A Win-Win situation for both shops, brought about by a creative way of solving a problem...and a couple of professionals smart enough to implement it!
Judging by the view counts and comments on YouTube, the Possum is quite a hit! It's a realistic replica, animatronic possum, with movement of its head and neck, paws, body, ears, blinks, and mouth. These are Puppeteered by Hand, Rod and Radio Control.
Check out the finished ad on YouTube!
Remember, The Character Shop can bring just about any animal, alien, creature, or character to life, using animatronics, puppetry, and a bit of talent and wizardy! Give us a call or email us at The Character Shop. (805) 306-9441 lazzwaldo@mac.com