Those above words all are valid names to call Women who sit around drinking wine all day and prey upon younger...wait a minute, what am I saying? That's not correct. I'm confused. Cougar Town is not about Cougars, either. Or so I have been told. Then why are they…oh my word, it's TWO Cougars!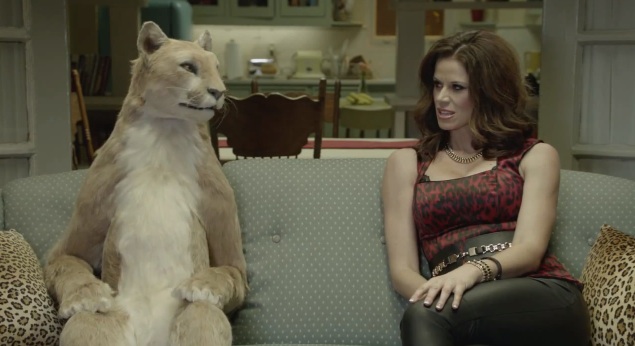 Not long ago, Greyson Ross of PuddingBoy Productions and Eric from thisisjean.com contacted Rick Lazzarini and The Character Shop with a scintillating and intriguing proposal: Create a talking Cougar character for a series of Web Promos for the upcoming premiere of "Cougar Town" on TBS. Since Rick loves a challenge, is passionate about figuring out how to make things work, and extremely good at solving puzzles, he jumped at the chance.
Having already created one and having it in the shop helped a lot with his decision, too.
But this time it was different!
8 years previously, Lazzarini and crew had constructed a wondrously beautiful Puma for a
Cadbury ad.
However, that particular cat was seen to be relaxing, prone, on a bed, whilst playing a guitar.
The NEW challenge was that the cat had to be sitting up, vertically. And called a "Cougar". Because they're the same thing!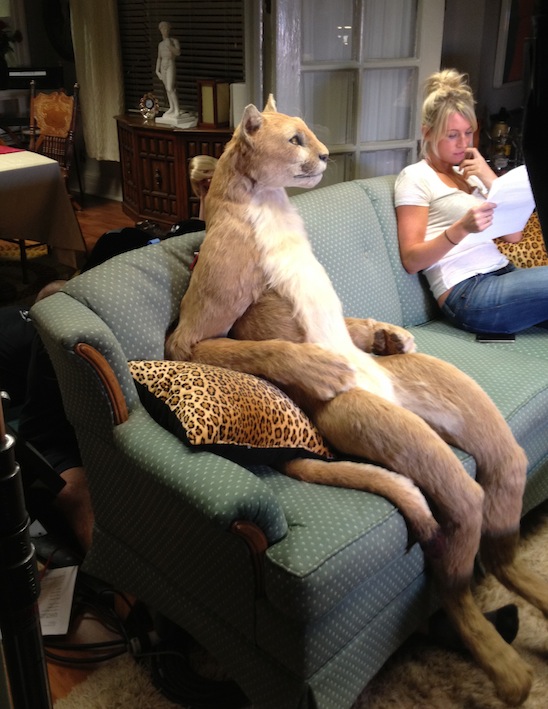 Well, the name change turned out to be the easier part. In order to have the animal sitting upright, an entirely new body, from the neck down, had to be created, and the original animatronic head removed (decapitated? decatipated? kitterpated? whatever) and grafted onto the new body, muahahahaha!
The Cougar needed to be used in 6 promo spots, five of them sitting on a couch, and one sitting on a chair at a Kitchen table. Special customization had to happen to both couch and chair to accommodate the Puppeteers beneath, namely, Rick Lazzarini (working the head, jaw, and lip movements) and Deb Smith (with her slender arms bringing the cat's forepaws to life). Finally, Puppeteer Bob Mano used radio control to bring the Cougar's blinks, eyes, ears, and brows to life. All in all, it's a pretty expressive puppet!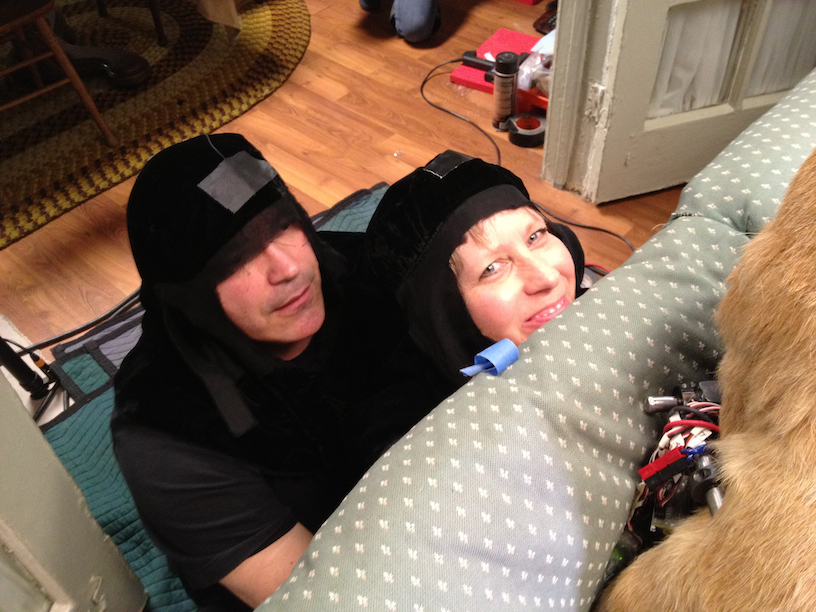 In addition, Lazzarini also was chosen to perform as the voice of the Cougar, which allowed for spontaneity and improvisation, in-camera and on set, as he could manipulate the animatronic Cougar's head and mouth, in real time, right along with his dialogue.
The icing on the cake (or the cream on the catnip, as they say in the Family Felidae) was the pleasure of working and playing with Jennifer Bini Taylor, the super-funny, super-professional, and super HOT "other" Cougar. And neither of the two Characters are particularly bright.
The result is a series of sensationally stupid interactions that resulted in over a Million YouTube hits for the campaign, and a lot of compliments and calls for the Two Cougars to have their *own* show. Needless to say: We're down with that!
Need a realistic animal to deliver dialogue and come to life for your project? Or a silly one?
Don't pussyfoot around; contact Rick or Deb at The Character Shop!
And check out the original promos in all their glory!
(805) 306-9441 lazzwaldo @ mac.com