Those Capital One Visigoths. When they aren't sacking and pillaging, they've got quite an entrepeneurial spirit! So they opened up their own Pizza/Arcade/Play Place, sort of modeled after another business that rhymes with "Bucky Breeze".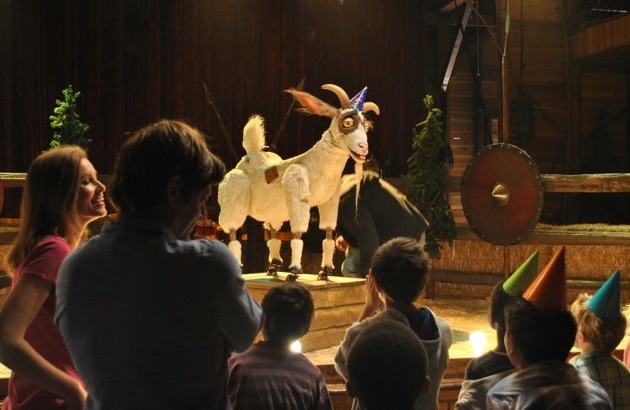 Of course, what kind of place like that could exist without some run-down, janky, clanky animatronic characters? Rick Lazzarini and The Character Shop, known for creating incredible animatronic animals, were asked to bring to life a goofy goat for a new Capital One Spark Card ad, directed by Harald Zwart, with Production Designer Stephen McHale, for Company Films.
The concept was to have something with character that fit in with the rustic, rough-hewn decor of "Olaf's Pizza Place", where Skee-Ball is replaced by mini-catapaults, and the grab-a-prize machine picks up live reptiles. The idea was: What kind of animal wouuld the Visigoths build? (a goat, like their faithful companion) and how sophisticated would the movements be, given that these fellas are a little, well, rough and tumble?
The answer was, make this critter ALL loosey-goosey at the joints. Movents at the ankles, shoulders, hips, tail, head, and jaw were implemented. However, in each case, rather than making precision fit joints as usual, Rick and the talented geniuses at TCS used ball joints, off-balance linkages, and flexible, compliant mounts, so that there would be "bonus", sloppy, random moves, for a truly silly animatronic character.
The finish, too, was meant to be crude, as if it was the best a primitive Viking could hope to do. We imagined many late night mead celebrations, with unspeakabe acts performed on the hapless automaton, and so leather stitching and repair patches can be seen on its dirty, man-handled hide, in hasty attempts to "spruce it up" before the next days' batch of birthday bra...er, I mean, appreciated customers, came in.
The movements themselves were actually pre-programmed in a 5 minute loop, so, just like a theme park character, there was a pre-choreographed routine the goat would run through, then start all over again.
In the final :17 and :30 second spots that just broke on YouTube, there's really no good, clear shot of the Goat, though it can be seen moving in the background. However, perhaps there's a series of more closer, loving, lingering shots of the goat in a :60 cut on its' way. I mean, do you want a Golden Lion at Cannes, or NOT, huh? ;-)
Have a look at the Progress Page we provided while creating the Goat!
And have a look at the finished spot up on YouTube!
Remember, The Character Shop can bring just about any animal, alien, creature, or character to life, using animatronics, puppetry, and a bit of talent and wizardy! Give us a call or email us at The Character Shop. (805) 306-9441 lazzwaldo@mac.com