You're excited. Your wife has been with child for 9 long months, and the happy event is upon us all! You remember back to your thrilling honeymoon, and the colorful showers of love you bestowed upon her. Now it's all culminating in this thrilling moment! The Doctor is there, the nurse is ready to catch and…WHAT? It's a giant orange CANDY? Good LORD! Tell me it's not true, sweetheart!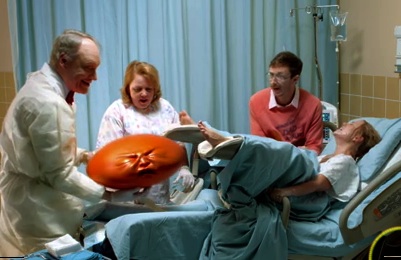 Cousins, the amazing and hilarious directing duo, shocked and gobsmacked millions of eyeballs (and faces) last year when they released their parody ad "Newlyweds".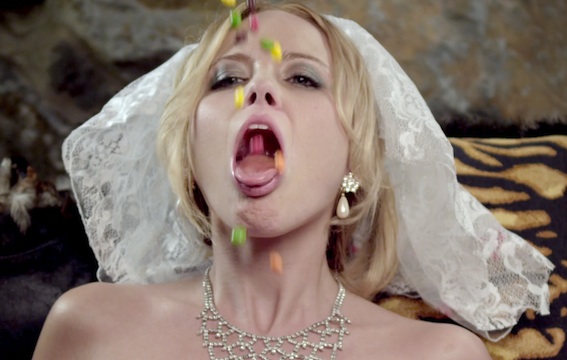 Now they've revisited the couple to see the afterbir, er, afterMATH. Cousins Producer Kali Erin Niemann contacted Rick Lazzarini at The Character Shop with an odd request: Could he make a giant orange candy baby? Of course we could!

The Candy baby was a full sized model, carved from foam, hard-coated, bonded, sanded, primed, and painted to orange perfection. The face, meanwhile, was sculpted on the form, and given its unique bleared character (with John Tenniels' classic "Duchess and Baby" illustration for "Alice in Wonderland" as a key inspiration).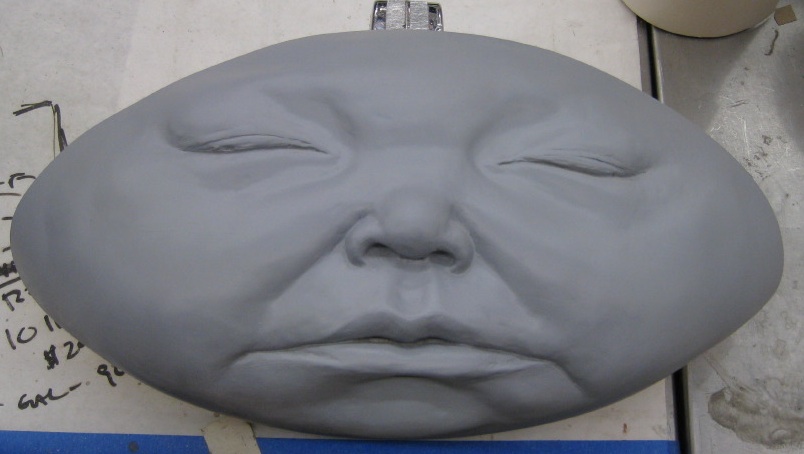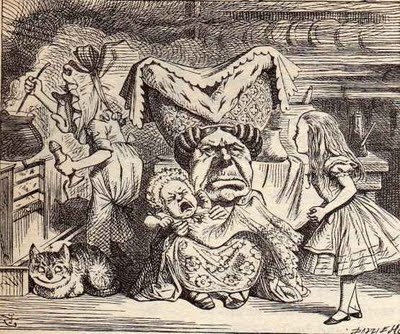 The budget did not allow for animatronic facial expressions, and as CG FX house The Mill was willing to do the character animation at no cost…well, which way would YOU go? ;-)

But the character imbued in the TCS sculpt was so perfect, the Cousins insisted that it become the foundation for any CG work. Ergo, The Candy Baby's face was molded in silicone, then cast in a rigid urethane, which was finally painted a neutral grey color. This was provided to The Mill to scan and digitize, and use as the basis for all their facial animation.

Tracking dots on the Candy Baby body served to point out where the eyes, nose, and mouth would be mapped. The Mill then did a fantastic (and FREE!) job of bringing the Candy baby's facial movements to life.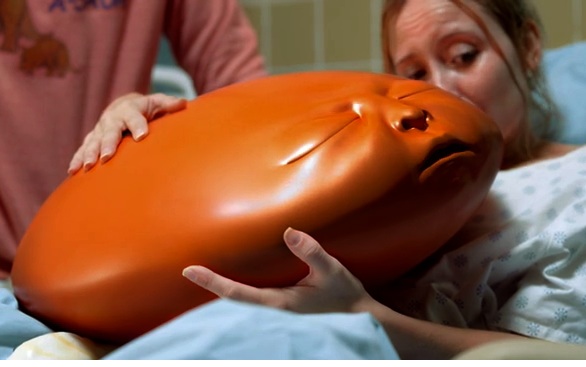 Of course, no birth is complete without the severing of the umbilical cord, and TCS served up a magnificent gag: a hollow, silicone umbilical cord, with yellow and orange hues to match the colored candies that spilled out when the cord was cut. In typical Cousins weirdness, The Nurse partook of this Peanut Butter treat (which is likely to have tasted better than January Jones' placenta!)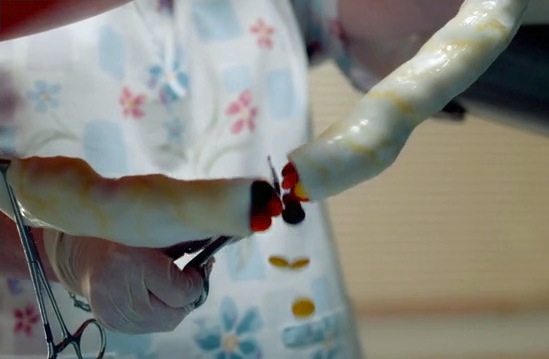 Check out our See Candy Baby Progress Page that shows the whole gol-dang gestation!
And check out the finished "ad"!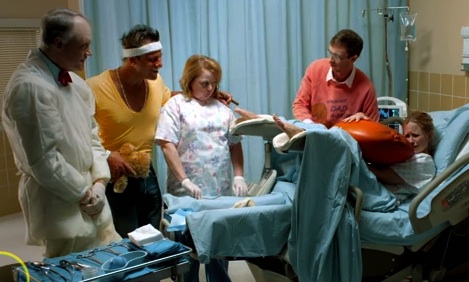 Cousins & One Lung Films in assoc. with Townhall
Director: Cousins
Producer: Kali Erin Niemann
DP: Eric Robbins
Baby Concept Design & Creation:
The Character Shop - Rick Lazzarini
Sculptor: Daniel Tirinnanzi
Modelmaker Tech: Chase Birdsong



Need a bizarre idea brought to life? We're *The Character Shop*. We can make it happen, you wierdo!