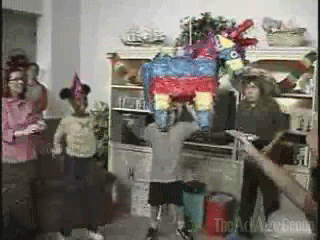 It's a birthday party! For a new Wrigley's Gum product spot, TCS created an animatronic Pinata that could "come to life" and chase the little girl who got the Juicy Fruit "Strappleberry"! The legs were on a speed-controlled cyclical mechanism, while the head up/down, side/side, ears, and mouth were radio-controlled. A large rod came out of the back of the Pinata, while puppeteers operated the puppet from a rolling gantry above. The rod was then eliminated in post. A second "stunt" Pinata was built, with radio-controlled "Bomb Bay" doors to release the gum on cue.
To create this puppet, a series of 2D Ilustrations was generated, based on typical types of Pinatas available (boxy or rounded, painted or fringed):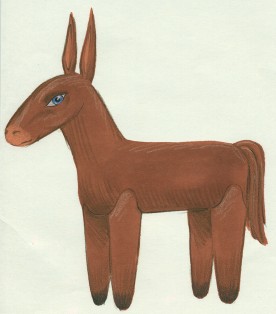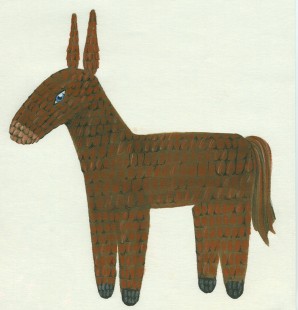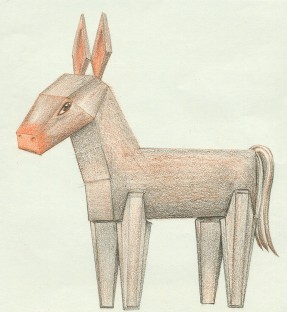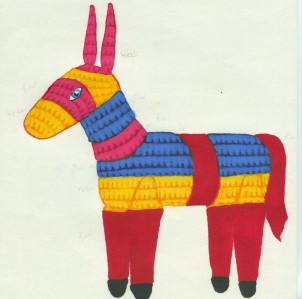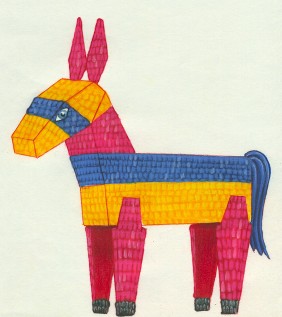 After narrowing down the choices with Director, Agency, and Client, we then created a 3D foam form: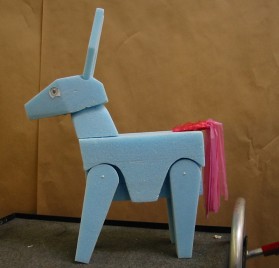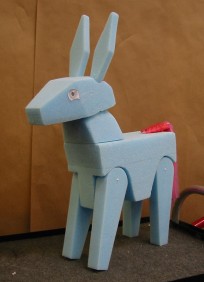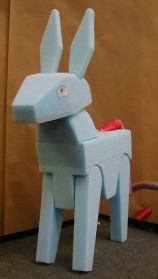 Once approved. these forms were then coated with resin and fiberglass, and a solvent poured in to dissolve the foam. Voila! Instant rigid shell, which we then placed our mechanisms in. We then peppered the shell with holes to make it as light as possible: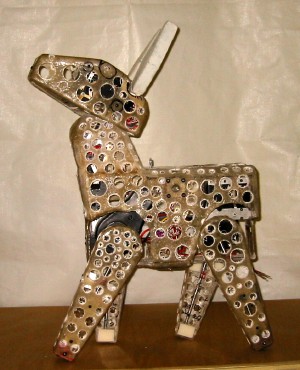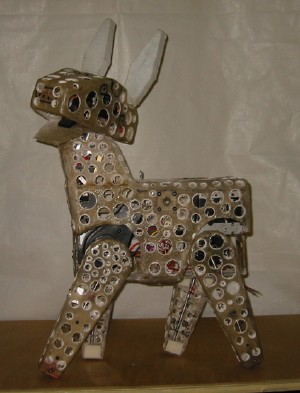 The form was then covered with a custom-sewn cotton spandex covering to cover the joint gaps. The spandex was then "underpainted" to match the colors of the final fringe material:
.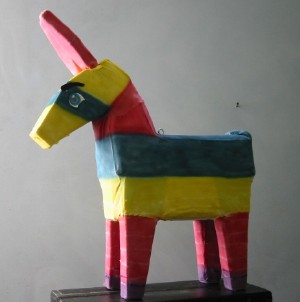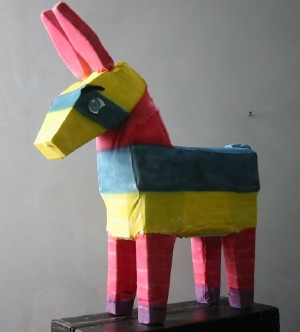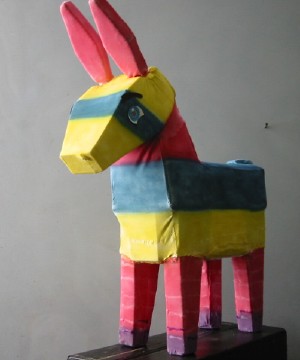 The "fringe" we used was not cut paper, as is used in real Pinatas, but rather a textured, pre-colored polyethylene (the kind of plastic used in grocery bags). This gave us a more vibrant color range, as well as far more durability to last through all the pounding and scuffing it would take. Take a look at the finished product!
---
What's New | Features | Commercials | Resume | Realistic | Whimsical | Scary | Animatronics | Prosthetics | Puppets | Waldo ® | Publicity | TCS Fun | FX FAQ | Reference | Contact Us
Except where noted, all contents are the property of The Character Shop, Inc. and copyright 1995-2006
Photographs and text may only be re-published with written permission. All rights reserved.

Home