Mohawk Carpet Ads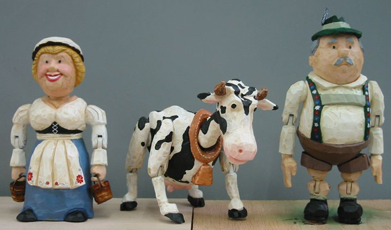 RSA-USA Director John Schwartzman and TCS go a long way back; Schwartzman was the cinematographer on several of the Budweiser "Frog" and "Lobster" ads, so it was no surprise when he turned to The Character Shop for help with a pair of commercials for Mohawk Carpets. His familiarity with TCS' clean work, precise performances, and on-set efficiency made it an easy choice to make.

"Chippendale"

In one ad, we see a tastfully appointed living room, replete with Chippendale furniture. For those not familiar, Chippendale pieces are easily recognized by the legs of the pieces resembling a dragon's claw holding a ball. However, soon we see a wooden ball rolling across a beautiful carpet. The ball has come away from the table leg, whose claw is now free to luxuriate and paw the thick, expensive floor covering. In fact, it likes the feel so much, we soon see that a second ball has joined the first!

TCS created a cable-controlled animatronic claw, capable of bending and flexing its' four fingers (three front claws, one back claw). The outside "skin" was made from firm translucent silicone, treated, pigmented, and glossed to give the dept, direction, and look of authentic woodgrain. The piece was virtually indistinguishable from its matching wooden counterpart...until it came to life!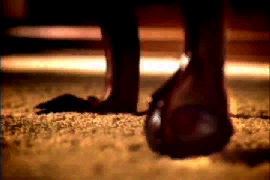 Download the entire commercial (270 x 180, :30, 10.8 MB)

"Cuckoo Clock"

For the second spot, a Bavarian-style cuckoo clock featuring a farmer, his wife, and their milking cow comes to life as the clock strikes three. Rustic, charmingly carved figures rotate out of the mechanical clock, as they do every hour..but this time, it's different. The farmer comes to life, noticing the soft, lush sea below him. Suddenly, he leaps, falling gleefully into the plush, patterned carpet, and writhes in delight at the touch. ack up top, the wife and cow give him an Olympic-style score!

For this ad, TCS created small rod-operated puppets,with carefully crafted joints, and painstakingly created paint jobs. The figures were sculpted in oil clay, until just the righ look, form, and texture was achieved. The parts were then cast from a hardening urethane resin, sanded, painted, and aged. With the figures being so small, the devil was in the details. Post production rig removal eliminated the slim metal rods protruding from the puppets' elbows, heads, and feet.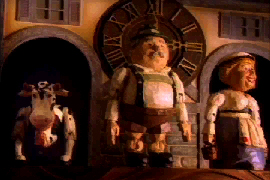 Download the entire commercial (270 x 180, :19. 8.8 MB)
For another great example of how we keep our clients up to date on a project's progress, check out these web pages which chronicled the client-requested changes:

---
Home
What's New | Features | Commercials | Resume | Realistic | Whimsical | Scary | Animatronics | Prosthetics | Puppets | Waldo ® | Publicity | TCS Fun | FX FAQ | Reference | Contact Us
Except where noted, all contents are the property of The Character Shop, Inc. and copyright 1995-2006