10 foot tall, 2000 lb Robot for SXSW '16!
A tribute to the American Inventor for the Innovation Alliance
Rick Lazzarini and his extremely talented crew at The Character Shop created a giant, kick-ass, 10 foot tall Robot for this year's SXSW Festival/Trade Show in Austin, Texas. Contracted by Agency I.D.E.A. for Client The Innovation Alliance, the Robot is called INO-V8, and is a tribute to the spirit of the American Inventor and 200 years of the history of Inventions. The message to be delivered with this incredible interactive Robot is that "Patents Matter",
At SXSW, there were a lot of robots. Many touted their AI capabilities. However, ours went far beyond any of those. We didn't have some piddling little AI, we had SAI...Super Advanced Intelligence. We had four separate processors running, plus a MacPro, and with each visitor, we had sensors that could instantly recognize something unique about that visitor, instantly vocalize something complementary about it, deliver the Client's message, with actuators that would instantaneously react and move. There were also 4 different lighting zones, video playback, sound effects, motions of its arms, fingers, 3 axes on the spine, a two-axis head, 2 axis eyebrows, and a 1,200 lb. mobile base capable of locomotion, "dancing", and laptop destruction. See if you can find some of the many inventions and materials that make up this very unique invention!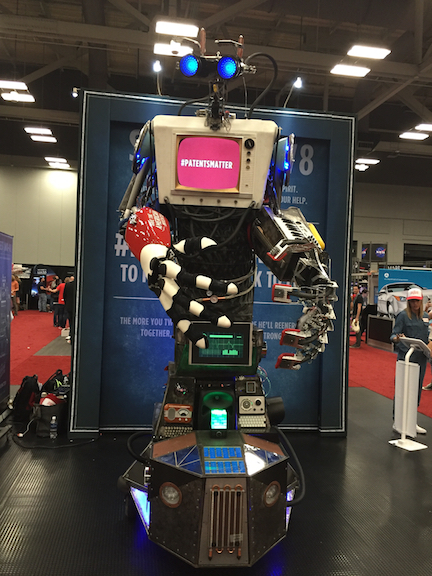 INO-V8 was a HUGE success, and the Client EP, Agency Producer and Agency AD had this to say about it:
"I want to send a shout out to all your wonderful and friendly crew who helped us turn this idea into a reality. Experiential marketing is a risky business, you always wonder during the process if you have the right mix... To see all the positive buzz we brought in the "Save the Inventor" campaign is the best reward."
Here are some direct quotes from the Client's Executive Director on today's call about SXSW:
"It was an absolute smashing success. It was all extremely well done. INO-V8 was a real sensation." By the way, there were 555 exhibit spaces at the Trade Show and we were by far the most popular booth. So mission accomplished !!"
"I wanted to thank you, for all your hard work leading up to to SXSW. I know there were a lot of ebbs and flows on this project but you guys rolled with the punches and created one of the coolest things I've had the chance to be a part of. You guys are masters of your craft. INO-V8 was bitchin! You guys killed it, and are some of the most talented people i've ever met. We'll be in touch..."
USA Today listed INO-V8 under "The Cool Stuff" in a review of what to see at this year's SXSW. Here's a partial list of materials and inventionsthat made up INO-V8: Old-time radio, 3 clocks, old Underwood typewriter keyboard, plasma ball, Flux capacitor, electric guitar, keyboard, meccano/Erector set, neoprene, carbon fiber, copper, kevlar, perforated steel, perf. aluminum, voice-reactive graph, mac keyboard, modern clock radio, brass gears, lite-bright, gauges, old tv, reel-to-reel tape recorder, motorcycle gas tank, vacuum hose, transmission cooler, headlights, lcd power meter, servos, binoculars, cell phones, film reels and projector, a Vertex video game unit (playable) a bank of 20 different switches, honeycomb aluminum, corrugated lean, plate aluminum and steel, tubular steel, space shuttle tiles, hub caps, shock absorbers, cooling vents, riveted aircraft aluminum, tesla coils, vacuum tubes, linear actuators, hydraulic actuator.....Here are some more great pictures of INO-V8 in action!: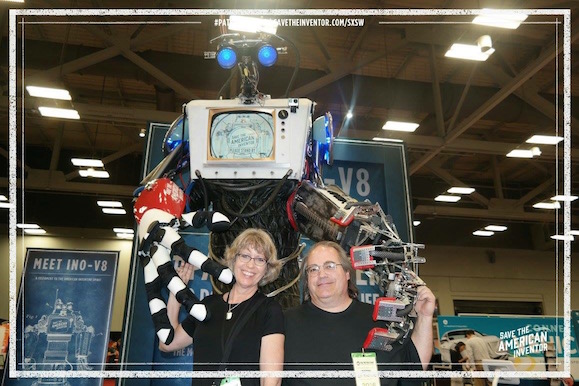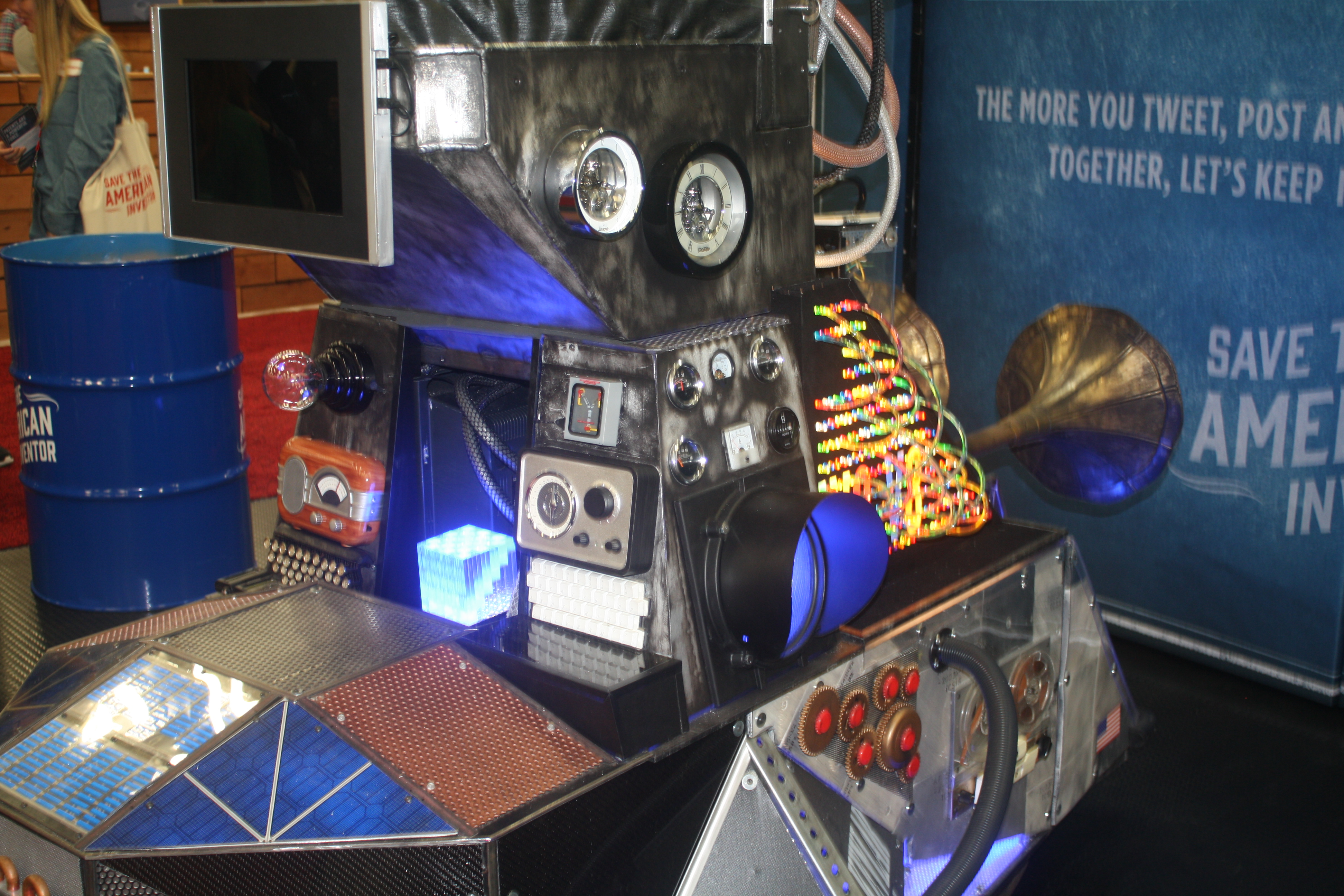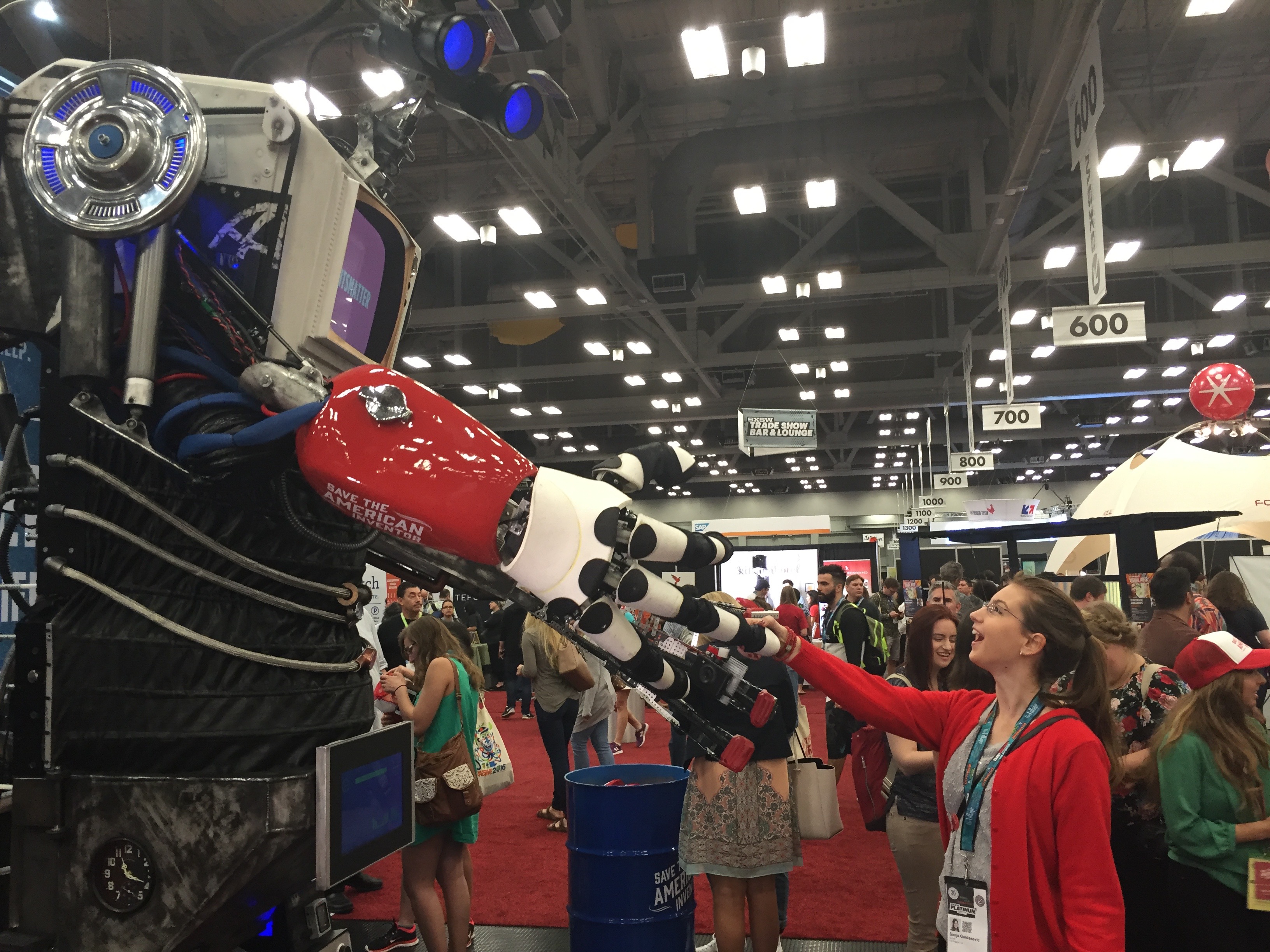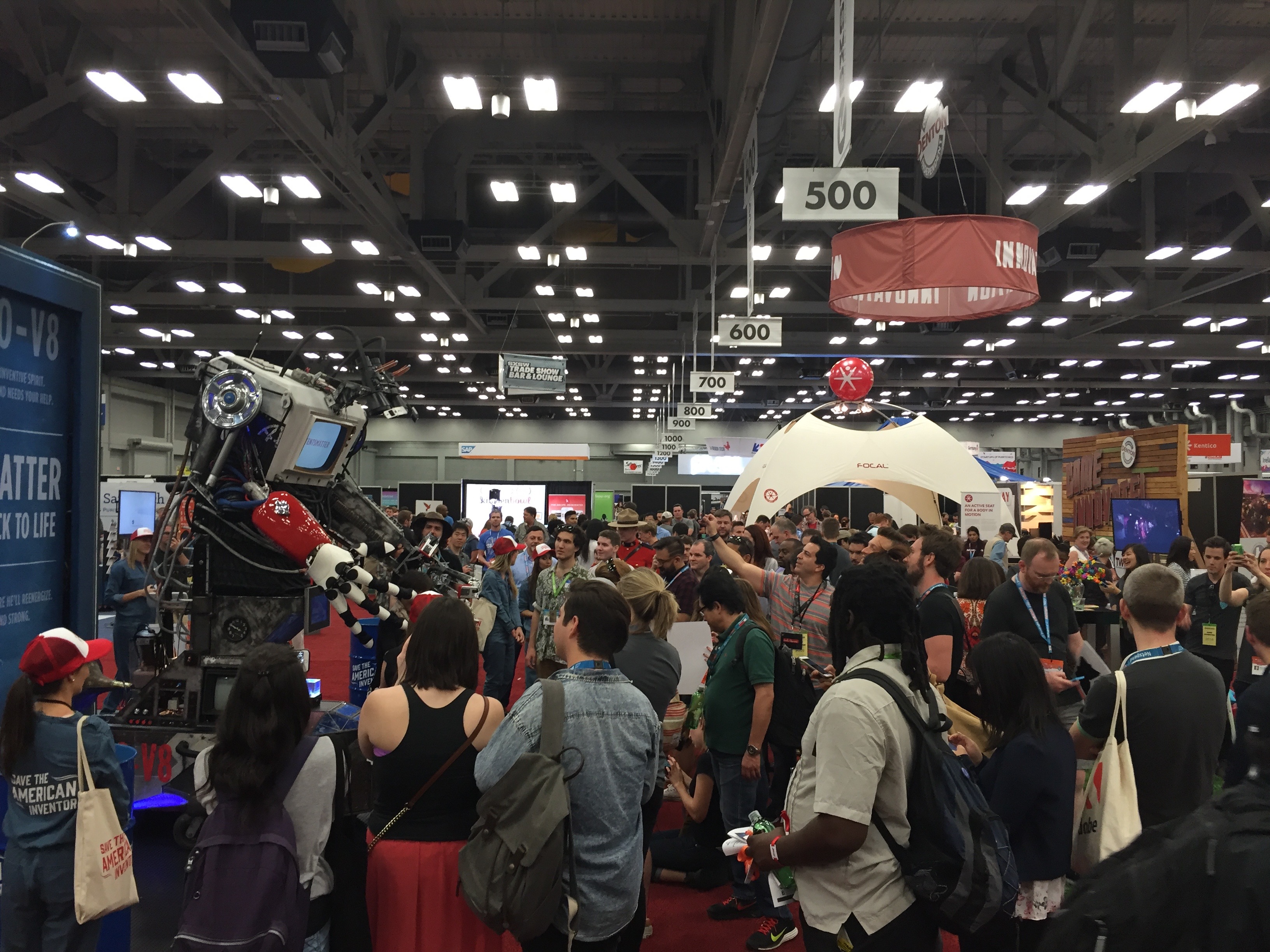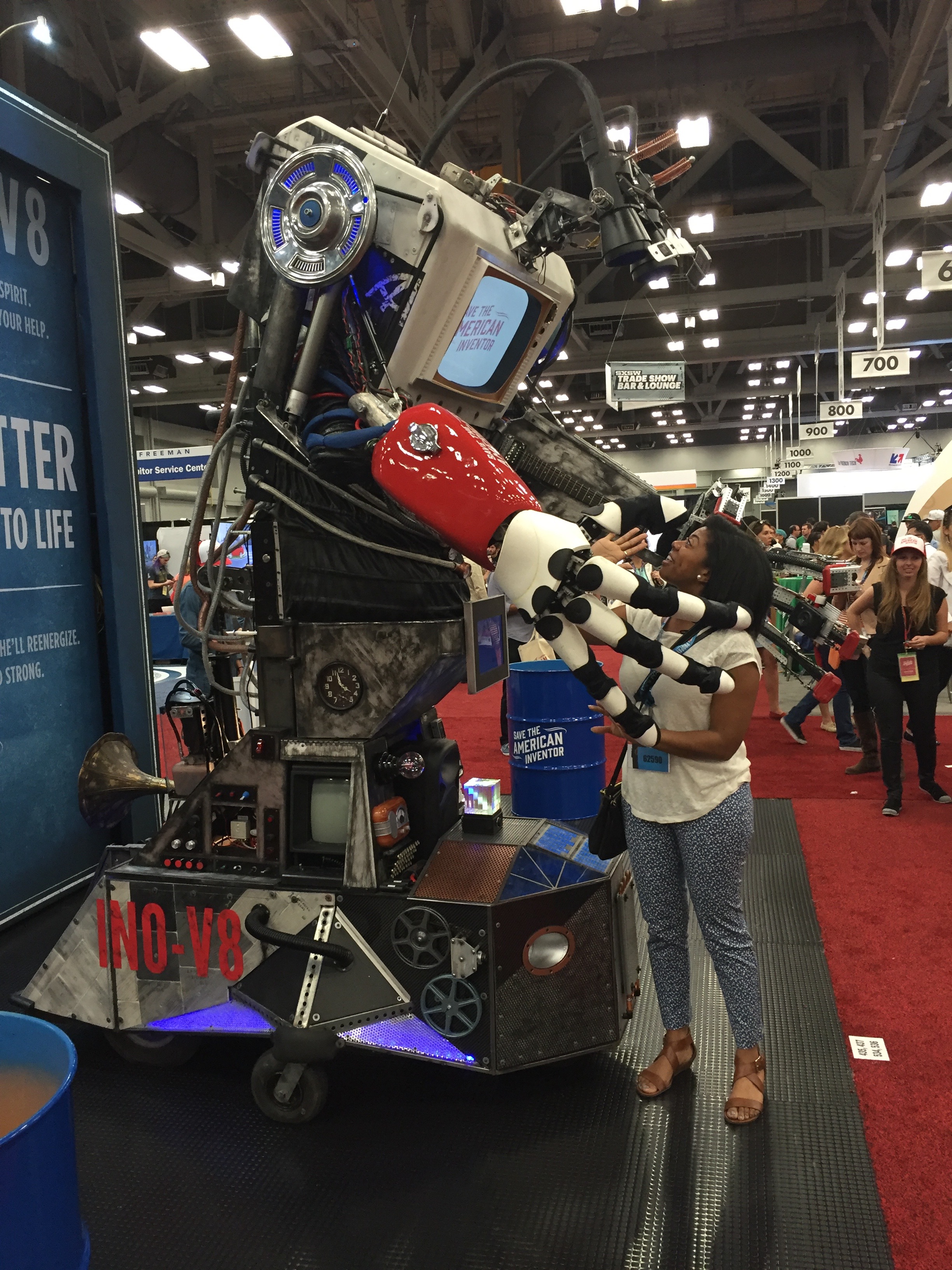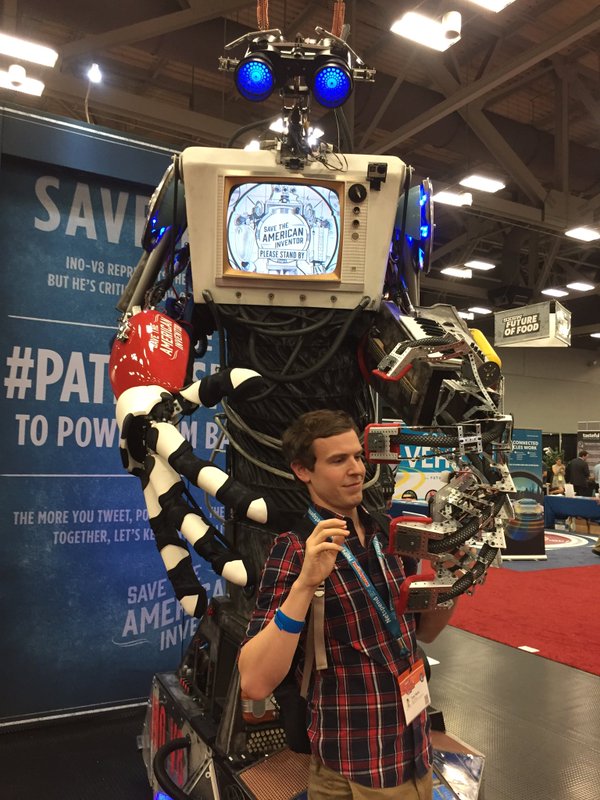 We design, create, tweak, evolve, and finish our characters to the Client's specs, then break it down and deliver it to wherever it's supposed to go, perform it, make sure it stays up and running during the show. It can incorporate lighting, movement, video displays, interaction, etc. Then we break it down, palletize or crate it, and ship it to storage, awaiting its next gig.
While our core business is puppets, robots, and animatronic animals for Feature Films and Commercials, we've also done both short- and long-term kinetic/animatronic installations for restaurants, museums, stadiums, theatrical, and trade shows.
Perhaps we can create something in the near future, for you!...
Whether you're a Producer, Art Director, Prop Master, or Production Designer, you can have incredible animatronic creations for your Production. Need incredible imagination and technological wizardry for your Film, Television Show, or Live Event? Contact The Character Shop at 805-306-9441 or lazzwaldo at mac.com!